Hello
I apologize in advance, but due to the hundreds of emails I recieve weekly, it is impossible for me to answer all of them. Always get your dog to a vet if you suspect the dog is not feeling well. DO NOT WAIT FOR ME TO RESPOND TO AN EMAIL. I have set up a search engine on this website so you can find and article related to your question.

For very serious issues you can set up a phone consultation time - I do not charge a fee for veterinarians to contact me.
If you are looking for a puppy, to the left is a list of better breeders under the Breeder Showcase link.
For information on a new product I just finished test feeding for senior dogs or dogs with serious joint issues (4 yrs+) read about Full Flex.
It seems the bulk of my emails are wanting to know how to feed their new Great Dane or any breed or size dog for that matter. I have programs for all sizes because I also own Pugs and a Collie/Sheltie too. I get many questions about HOD, (developmental bone disease) and Knuckling Over/Bowed legs. This can happen in all breeds and sizes not just giant breeds. I also receive emails regarding other orthopedic issues such as Wobblers , OCD, Hip Dysplasia ,and Pano , arthritis.
The biggest amount of inquires are looking for information regarding reoccurring diarrhea in dogs and how to deal with allergies, skin problems and systemic yeast overgrowth.

Another area of interest is coping with heart disease in our pets. People are also wanting to know when it is best to spay/neuter the large breeds, and the correlation between anal gland problems and tonsillitis.
Other typical health concerns for young puppies or dogs who have been in a rescue situation is that of puppy acne/staph infection, demodectic mange, vaginitis.
If you have a brand new large or giant breed puppy make sure you read my Puppy Handbook on the care and feeding of the big breeds.
There is considerable interest in the feed programs I have for seizures, cancer, diabetes and bloat and gastric sensitivities.
If you can't find a food that I recommend I have a list of alternative foods. If it is not on this list, there is a reason based on my criteria. There is much interest in feeding Raw Diets, so I suggest you read this info and likewise grain free diets - they are popular, but are the the right solution for your pet?
I have developed a new Cancer Feed Program that owners find very supportive to the pets with cancer, and then I have over 40 specific feed programs for all breeds, adults and puppies. The most common used is the Puppy Feed Program for Large/Giant Breeds.
People inquire about owning one of our puppies but they are normally spoken for before the litter is born and they go to other breeders. This is why I have a list of good breeders at my website, start with inquiring there and for a list of breeders in your stage go to the Great Dane Club of America website.
Linda Arndt - "The Great Dane Lady"
Blackwatch Nutritional Consulting LLC


---
Another Happy Ending

This is Beau Burton - he has a special place in my heart and I thank Midge Burton for sharing his story. Beau is one of many dogs that has been on the Blackwatch Systemic Yeast Feed Program for the past two years. Beau is now 13 years young. These are photos of before, when Beau spent a life of misery in collars, with itching burning skin, on steroids and antibiotics. The bottom photo his mother sent today to show how well he is doing on the program. You can even see a twinkle in his eye! What a heart warming story and an example of what good nutritional support can do to relieve, revive, rebuild and regenerate life. It's never too late!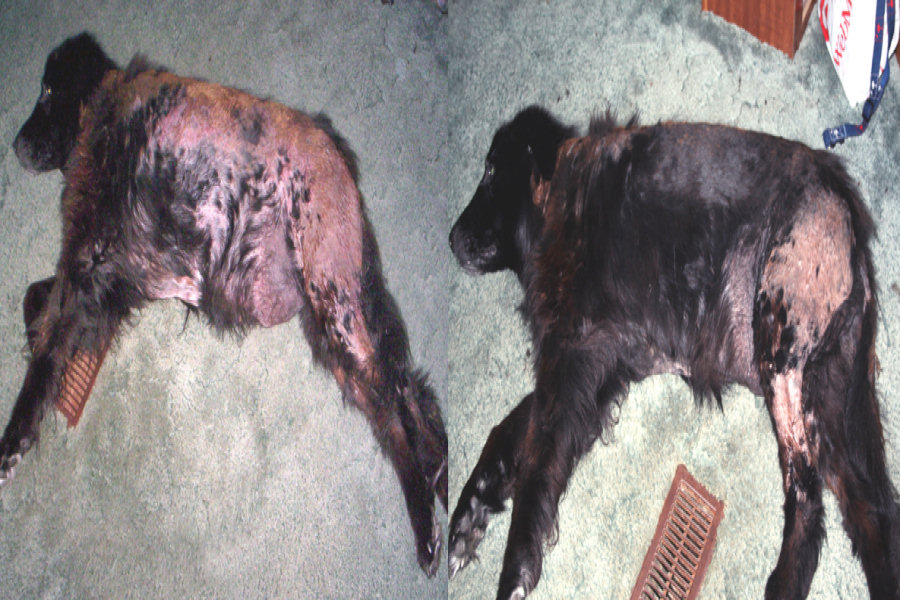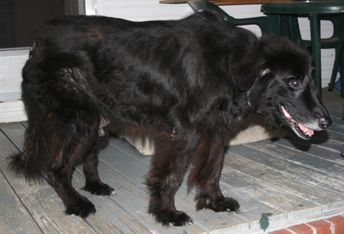 ---
There is now feed program for Cancer Support, it has been a long time coming. Then there is an exciting article about Oxygen Therapy for diseases such as diabetes, cancer, for any rescue and repair situations.

There is also a new product called SeaCure, much has been written about it and the success people have using it with their dogs. It is available at First Choice Naturals, and is used for a variety of situations; giardia, fading puppy syndrome, allergies, cardio problems, renal failure, yeast issues and cancer.
If you have any questions or need help, I will try to respond in a timely manner. In the meantime use the search box above, or the links below to find the information you need. Remember to seek the assistance of a veterinarian when your pet is ill and do not wait for me to respond, as I am not a veterinarian and information at this site is not to be used in lieu of veterinarian help.

I hope you find the information at this educational website not only helpful, but enlightening, and you will share this website link with friends and family as well.

Warm Regards,
Linda Arndt - "The Great Dane Lady"
GrDaneLady@aol.com
---
Examples of Nutritionally Caused Bone Diseases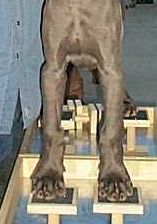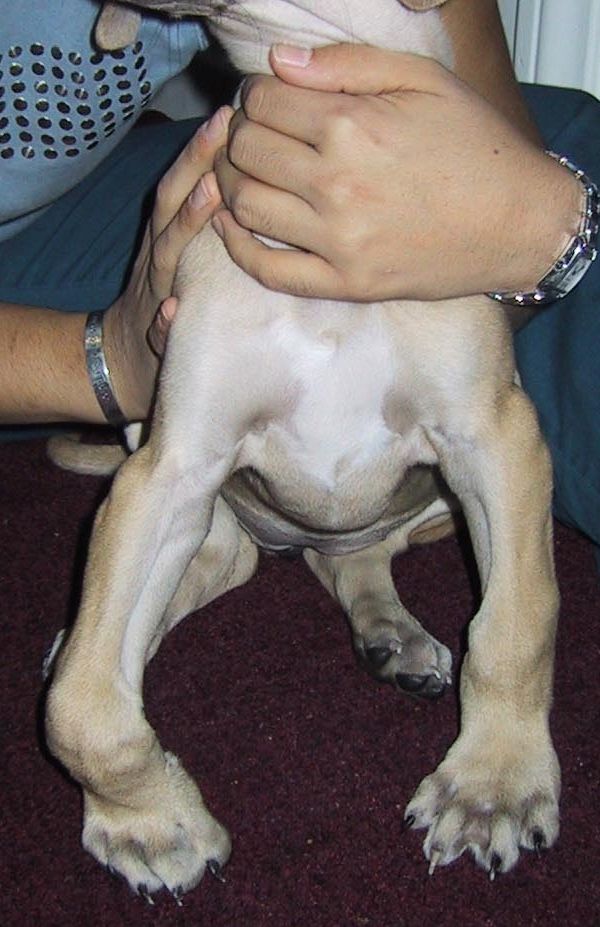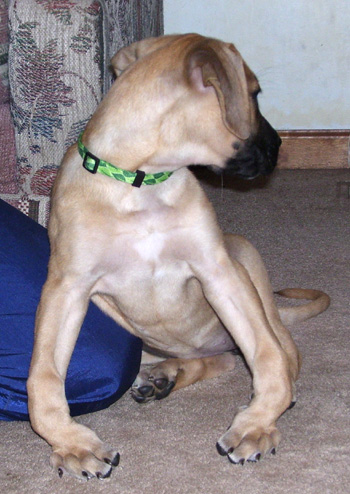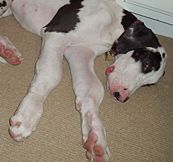 Left: Correct Front Development.
2 Middle Images : Knuckling Over/Bowing . Right: HOD
(Vaccine Reactions often look like HOD)
---
Note To My Puppy Buyers: Eagle Pet Foods was owned by the Cocquyt family, but it was sold to Berwind Industries in 2007. Wellness Dog Food was acquired by Berwind in 2008 and the two companies were merge into a single entity called WellPet LLC. Regrettably, due to changes in ownership I can no longer endorse nor feed the Eagle Pet Food product line.

After careful consideration I will be using and endorsing the Precise and Precise Plus product line and recommending these to my puppy buyers.
Since Eagle is no longer sold overseas, I recommend the Precept Plus and ANF line of pet products. It will take several weeks to change the feed programs over so be patient.
:
Linda Arndt - The Great Dane Lady

---
To locate a Holistic Practitioner for Acupuncture and Chiropractic work, use this link for their directory
-
American Holistic Veterinarian Site
---
PHONE CONSULTATIONS WITH THE GREAT DANE LADY
: SET UP TIME
---
info about
purchasing a Blackwatch/Owlwatch Puppy.
If you are looking for a puppy or a good breeder go here: BREEDERS
---
---
Human Nutrition Website
After many requests for advice on human supplements, in April I will set up a sister website to GreatDaneLady.com to help the pet "owners" with their own nutritional needs and questions. There will be several interesting articles from using alternatives to using statins, human yeast issues, daily wellness programs and cancer prevention,.
This human website will help you learn how to be your own health care advocate and how to locate physicians that you are comfortable with, when it comes to you and your family. And for your pets, remember to seek the help of a veterinarian and when "in-doubt" go back out...and get a second veterinarian opinion.


Linda Arndt - The GreatDaneLady

email: GrDaneLady@aol.com