Linda Arndt, Professor Emeritus from a large Midwest University, is affectionately known to most people as "The Great Dane Lady" or "The Lady of Last Resort". She has spent the past 38+ years as a professional breeder and devoted her efforts to research, feed trials, writing and lecturing on nutritionally caused bone diseases, and the effects of high calorie diets on the growth of large and giant breeds. Linda has lectured nationally and published numerous articles on growth, systemic yeast and general nutrition, and how it relates to wellness and longevity for all pets. She has published in purebred magazines here and overseas, as well as in the DaneWorld Magazine, The Great Dane Reporter, Whole Dog Journal, Pet Health News, Pet Product News, Animal Wellness and numerous animal health and many breed specific magazines.
From 1989-1995 she conducted a personal National Bone Disease Survey of over 5200 Great Dane cases of HOD, OCD and Pano. This body of information gave breeders a better understanding of the causes, prevention and management of Developmental Orthopedic Diseases in large and giant breeds. Out of that research came the design forthe old Eagle Natural Pack dog food (prior to 2009) and Feed Programs that work in helping to prevent developmental disease. Blackwatch Adult Feed Program , Blackwatch Puppy Feed Program and Puppy Guidelines (toys, vaccines, cages, problems).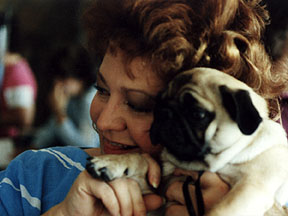 She also owned and bred champion Great Danes, Pugs, Borzois, and currently is owned by a Collie a Sheltie, a Pug as well as purebred cats (Persian). Over the years her puppy buyers and breeder friends have come to her for assistance and as a result, she has an extensive experience which she has written about at this educational website, a place to share her knowledge and experiences with other breeders, old and new alike, regardless of breed. She works hand-in-hand with puppy buyers, breeders, owners and veterinarians in helping to solve problems through proper diets, in the hopes of promoting wellness and longevity for our companion animals.
In June, 2006 she retired from 34 years of University teaching, and founded Blackwatch Canine Nutritional Consulting LLC to further her efforts in canine nutritional research, working with holistic companies to develop better foods and supplments for our pets.
---
Blackwatch Great Danes - established 1973

3 Generations at "Blackwatch"
Blackwatch Kennels has produced black, fawn and brindle champions in conformation and obedience, and co-bred and owned many dogs with the Phil & Jane Gray, of the famous Owlwatch Kennels, Muncie, Indiana.

Together we focused on genetics and breed evaluation, while Phil and Jane were dedicating their time to training and showing, I focused nutritional research, developing feed programs and health issues that affect wellness and longevity. Together we made an outstanding team, one that has been working in partnership for 35+ years.

Our breeding philosophy was to strive to improve and preserve the breed through a "designed" limited breeding program, with emphasis on temperament, soundness, health, longevity and classical beauty.

Current Direction:
I concentrate my efforts on writing, seminars, lectures and educating and assisting owners, breeders and veterinarians. I co-own and co-breed with Phil & Jane Grays of Owlwatch Kennels, Muncie, Ind.
I am available for seminars and lectures for AKC, All Breed Clubs, National Breed Clubs and Training organizations and veterinarian groups. If your club or organization is interested in a comprehensive educational seminar or lecture on systemic yeast, allergies, developmental orthopedic diseases, vaccines and general health care, and common sense nutrition, please contact me at GrDaneLady@aol.com.

In March of 2007 and February 2009, Linda was part of the prestigeous panel of experts presenting seminars on the K9 College Cruise.
---
Belowl - Ch. Ariel's Lira Black N Owlwatch (Lira) on the cover of Daneworld Magazine
Owners: Linda Arndt and Phil and Jane Gray and Breeder/Co:owner Angelia Riley. On the right is her son "Glenn" at 7 months. Below is Ch. Glen at 2 yrs old.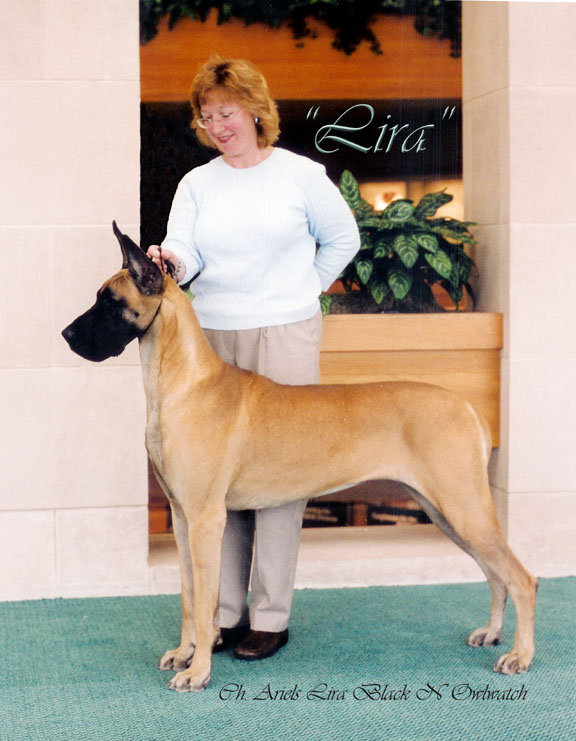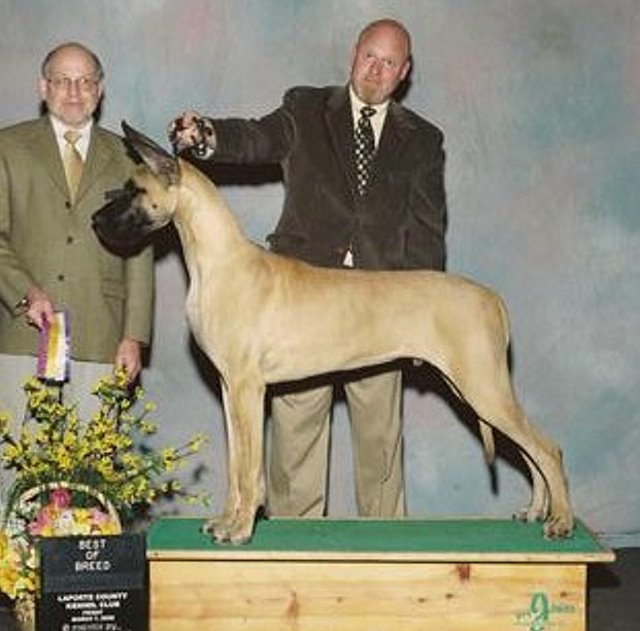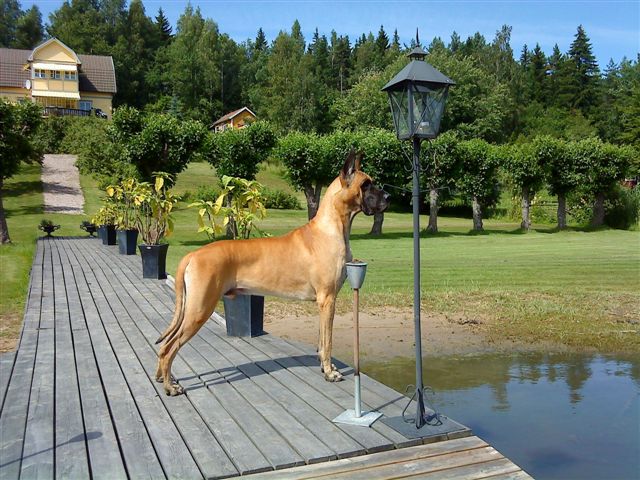 Glenn at 2 years old
Swedish Ch Owlwatch Summer in Sweden. He has accumulated seven Swedish Challenge Certificates and a couple of International Challenge Certificates, has multiple group placements including a couple of First in Group and a fifth place Best In Show at the International Show with an entry of 2,600 dogs, and was owner handled by Karl-Henrik - Congratulations Karl we are so proud of our lovely Glenn and now his offspring are in the show ring in the USA.
---
The Next Phase....
There comes a time in a breeders life where they hang up their "whelping box" and sit back and enjoy watching their grand babies do their thing in the show ring. We are so proud of our grand-daughter GCh. Crowbay's Wind in the USA out of our SW Ch Owlwatch Summer in Sweden (Glenn) and Fin Ch. Edendanes" Fortune Teller, that I have made a special page for Windy and her accomplishments in the show ring.
For more information and photos go here: WINDY
---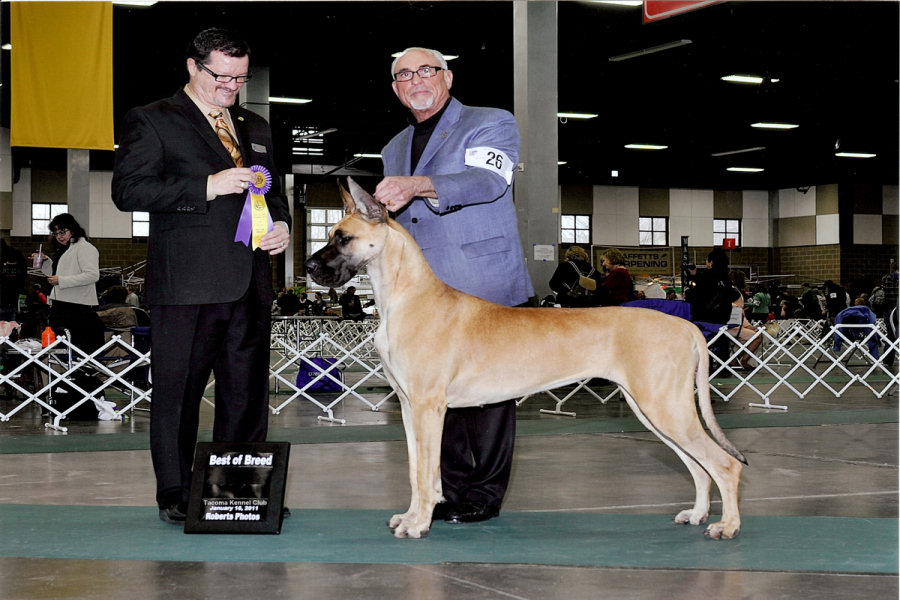 ---
More Wonderful Blackwatch Grand Children - Temira Danes
---
The Great Dane Lady's Other Life
As well as being a respected author and nutritional consultant, Linda is an accomplished Artist and Professor Emeritus. Her artwork has international recognition and she is listed in Who's Who of American Women and Who's Who of American Artists.
See examples of her work at this website.
---
Copyright © 2011 Blackwatch Kennels - All rights reserved. The content on this website is not public domain. You may freely link to this site, but do not have permission to add/copy the text to your homepage. This website is owned by Blackwatch Nutritional Consulting LLC.